40th REUNION INFO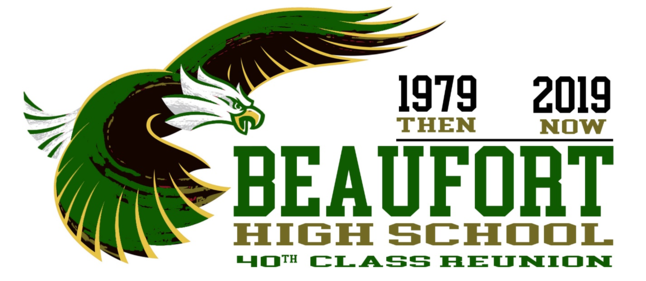 Class of 1979, it's time to celebrate our 40th Reunion!
Many of us haven't seen or heard from each other in years and some we have said to each other, "We should get together some time and…" Well July 5th -7th is when you can check the box attending our 40th Class Reunion. Below you will see a quick overview of the plans in place during the weekend celebration.
Two ways to Register: eRegister on this website / or Use MAIL IN FLYER (Click Here)
Friday Night Drop-in
The Carolina Tavern, 1714 Ribaut Rd, Port Royal, SC 29935
Pick up Reunion Packets, (Golf Shirt, T-Shirt, Hat, Tickets and Reunion Information),
Refreshments, Cocktails, Meet & Greet with lots of socializing
Saturday -The Class of 1979, 40th Reunion Prom - Theme, "Then & Now"
- 6:00pm-12:00am
The Quality Inn At Town Center, Boundary St, Beaufort, SC 29902
Mix & Mingle, 40th Class Picture, Catered Dinner, Cocktails and Dancing
Sunday -The Class of 1979, 40th Reunion Cookout
- 2:00pm - 8:00pm
Afterburners Club, Marine Corps Air Station, Beaufort, SC 29904
Mix & Mingle, Games, Cookout Buffet, Music and Cocktails
*40th Class Reunion Cruise - (Bonus option) the month of October 2019. Details TBD.
During this Holiday season please help spread the word to class-mates you see and talk too and make sure they know we are celebrating the Class of 1979, 40th Class Reunion on July 5 - July 7, 2019. We're looking forward to seeing everyone!
If you have any questions or comments post them using:
Beaufort High School Class of 1979 40th Reunion Facebook Link:
https://www.facebook.com/groups/822274527965126/
Beaufort High School Class of 1979 40th Reunion Website Link:
http://www.bhs79.org/?fbclid=IwAR1pfzAm9cFIkcntOaP3Ugtu5YezsVjyvabY4fdUbNbhn02jy8IKIepLZm8
Connecting "Then & Now",
The Class of 1979 Reunion Committee